Its exciting when there is all this buzz about a new record. Proud of the album and happy that we're getting some press. Hopefully this bring a few more fans – old and new – to the Late Night Light. Here is an interview with Kim Hughes over on HMV.com. Enjoy!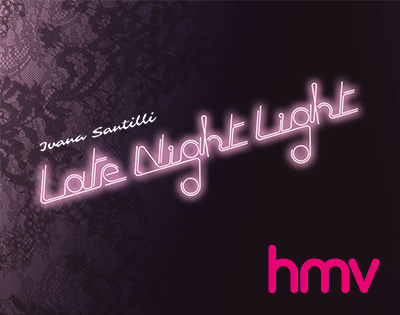 I write songs the way I get to know people – over time….
hmv.com talks to Ivana Santilli
A new record from charismatic Toronto singer/songwriter and keyboardist Ivana Santilli is always a welcome thing, especially one as crafted and confident (and candid) as her just-released Late Night Light, her first new album in roughly five years and one that expertly mines pop, R&B, soul and even dance.
Of course, Santilli has been at this game for a while. Her hit 1999 solo debut, Brown, vastly extended the promise of her work with 90s-era combo Bass Is Base while showcasing her crisp voice and fluency with whatever genre took her fancy.
As the affable (and very funny) Santilli tells hmv.com, Late Night Light and Brown have more in common than meets the eye. Both albums found her exploring anew the ways and means of her craft. Her fans are the lucky recipients of that exercise.
Where did this new material come from?
"I have to back up a bit because this record has been finished for a year-and-a-half. It all kind of started with the song 'Love Me Back' though I can't say I had an entire record in mind. But that song came to me so clearly and quickly. And it's an emotional song, cathartic, describing five years of bad romance from various sources (laughs). Anyway that song was very empowering. It's not about those people but about my relationship with love. When I finished that song I went into the studio to record… it was two days and when it was done I felt like I understood what I needed to do and that I had something to say again. It went from there with me on the Prophet – a brand new synthesizer – and it inspired me to write differently. So the album ended up being a combination of new ideas and older ideas that deserved to be finished."
It sounds like a long process…
"It was. This wasn't like back in the day when you'd just go into the studio for two months. I did it in such a way where I would write, record and then let those songs sit, do a few others and then revisit those songs and give them space to breathe. I wrote the songs in the same way I get to know a person: over time. When you rush songs, you end up imposing things on them. When you let them breathe, the songs tell you what they need."
READ THE rest of the interview HERE…